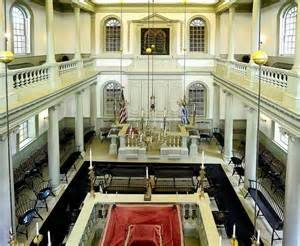 Recently in the news is a story relating to control over Touro Synagogue, located in Newport, Rhode Island.  The Touro Synagogue was built prior to the Revolutionary War and is one of the oldest congregations in the United States.  As with many older institutions, over the centuries, the original congregation and their descendants eventually moved from the area in question.  Many of these individuals settled in New York, and formed a new congregation, named Shearith Israel.  The original congregation in Rhode Island dwindled and even fell dormant for a period of time.
According to the Court records, there is a dispute between the current congregation of Touro Synagogue, now named Jeshuat Israel, and the New York congregation, Shearith Israel, over who was the rightful owner of the Touro Synagogue, and who has the right to make decisions such as the sale of ornaments in order to raise funds.
Our firm has handled similar cases involving control over religious institutions.  Many churches and synagogues experience changing congregations and conditions over a long period of time.   Depending on the location of the institution, members may move from the area, causing a sharp decrease in active membership.  At that point, the institution must decide whether to continue in its present location, or consider moving to another part of the New York where membership may increase.  Moving an institution will usually involve the sale of the current location.  Such a sale must be approved by the Board of Trustees or other governing body of the institution in question.  Prior blog posts have discussed the handling of legal disputes relating to control over a religious corporation.