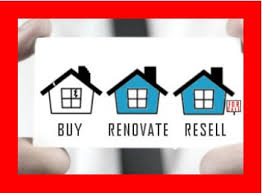 Many of our readers are familiar with television programs where people purchase properties in terrible condition, conduct renovations and then sell at a handsome price at the end of the show.  While some New Yorkers may be inspired by these programs, reality often differs from the outcome as depicted on television.  This post will examine some of the pitfalls in "flip" transactions and methods to alleviate some of the legal issues that arise.
Traditionally, a flip transaction takes place as follows.  A purchaser locates a property that is a "good deal".  Perhaps it is purchased at foreclosure auction , without the opportunity to view the interior of the property or to determine whether tenants occupy the property.  The property is a "good deal" because it is priced below other properties in the area, and is perceived by the purchaser as being in a prosperous area in which their ultimate purchaser will want to live.  Once the property is purchased, the owner will renovate the property and market it for sale.  The flipping purchaser does not intend to use the property for his own occupancy and therefore needs to sell the property as quickly as reasonable.
As most flippers ultimately realize, there is no such thing as a "good deal".  These transactions are often too good to be true, as these properties are acquired "warts and all".  Often the flip properties are acquired from foreclosing lenders whose attorneys present contracts that are allegedly nonnegotiable, "need" to be signed immediately and contain unduly harsh closing deadlines that could result in the loss of the downpayment or other penalties.  Flippers should not cave to pressure to sign such contracts without attorney review.  An experienced attorney will inform flippers that they are most likely purchasing the property subject to existing property violations, past due real estate taxes, unpaid water bills, another mortgage that may not have been removed by the foreclosure proceeding, occupants that may need to be evicted and the like.  It may be prudent to order a title search prior to signing such a contract and to resist pressure from the seller to use the title company that it recommends.
Once renovation begins, it is important for flippers to balance not spending too much money on labor and materials (to maintain a favorable profit margin) against renovating in a manner that the quality expected of purchasers in the neighborhood in which the property is located is achieved.  Flippers should have adequate cash reserves in case unforeseen conditions elevate the cost of the renovation.  In addition, flippers should not cut corners with respect to permitting requirements.  The eventual purchaser will most likely become aware if violations are not cleared or if permitting was not done prior to renovating and will require that the proper process be conducted prior to closing.  It is not material whether the flipper happened to purchase the property with existing violations or offensive conditions, as these matters require resolution prior to closing.  Further, renovations need to be of high quality in order to pass the purchaser's inspection.  Otherwise, the purchaser's attorney may request particular repairs during contract negotiations.
Flippers also require sufficient cash reserves to hold and maintain the renovated property during the sale process.       The property may need to be held longer than desired until the expected sales price is obtained.  Cash reserves may be required to continue paying property taxes and any mortgage encumbering the property until the purchaser is ready to close.  Once a purchaser is located, a qualified attorney should prepare the contract to deliver to the purchaser's attorney.  It is not prudent for flippers to develop their own contract or to locate one online, as it may not adequately pertain to New York transactions or to the particular property being sold.
High interest loans obtained when the flipper acquired the property may make the flipper intolerant of holding the property too long.  Flippers should also be cautioned against signing another flip contract, that may contain unforgiving closing deadlines and could result in the loss of the downpayment for another deal, before closing on the first sale, unless sufficient cash reserves exist that allow for both properties to be held simultaneously.
We are prepared to assist those interested in conducting flipping transactions, whether as professional investors or as first time flippers.