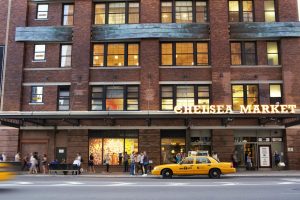 A recent article in the New York Times discusses the purchase of the building which currently houses Chelsea Market by Google.  Of course, this raises the issue of what becomes of the tenants in the building, including the all-important food vendors.  Commercial real estate in New York, whether in the New York City area or its surrounding suburbs, often changes hands.  The question then becomes what are the legal responsibilities of the new owner regarding the existing tenants.
In most cases, the property is sold subject to the current tenants' leases.  This means that if the tenants have valid leases, and most commercial tenants would have such leases, then the new owner "steps into the shoes" of the existing landlord, and takes the property subject to the leases.  It is important for anyone purchasing such commercial real estate to have experienced counsel review the existing leases, and be aware of the rights and responsibilities of both landlord and tenants.  A commercial property such as Chelsea Market may have dozens of commercial tenants, who may have different leases, expiring at different points of time, with potential options to renew.  The new owner must analyze the situation prior to purchasing to ensure that the existing rent obligations create sufficient cash flow for their purposes.  Also, if the new owner wants the space vacated, an evaluation is needed to determine how long the existing tenants may remain.
Assuming the buyer is obtaining financing for its purchase, the institutional lender will require subordination non-disturbance and attornment agreements from the tenant.  This is an acknowledgement from the tenant of the status of the lease, such as term, security deposit held, rent due and whether either party is in default, and that it will pay the lender if the buyer does not make payments on their mortgage loan.  In exchange, the tenant should obtain an estoppel certificate, which is a document confirming their tenancy, and stating that they will not be evicted assuming they continue to meet their obligations under their existing leases.