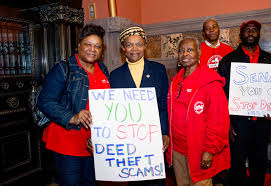 A recent New York Times article discusses why black homeowners in Brooklyn are being victimized by fraud in the transfer of the ownership of their properties without their consent.  Of course, deed theft is not limited to any particular part of New York, or any color.  Homeowners of all races should beware of predatory individuals and companies who may seek to defraud them when they may be in financial distress.  This blog post will discuss this issues a homeowner must be aware of in such situations.
The most common scenario is when a homeowner is facing foreclosure.  A foreclosure may occur when a mortgage is unpaid, or when property taxes are not paid. In such cases, the homeowner is entitled to at least ninety day's notice prior to a foreclosure action being filed with the Court and an action is commenced in the Supreme Court located in the county in which the property is located.
The commencement of a foreclosure lawsuit give the potential predator an opportunity to pounce.  Because such lawsuits are public records, any individual or company can look up in the Courthouse or on e-courts and see the location of properties which are in foreclosure, and the name of the individual homeowner in each foreclosure case.  After the information is harvested, the company may then contact the homeowner with a "rescue scheme," in which they claim they will "save the property" from foreclosure.  They may advance a small sum of money, with the promise of more advances, if the homeowner will execute certain documents.  The documents, rather than being innocuous, may allow the schemer to transfer the property from the homeowner to the "rescue company."  After the property has been transferred, the company may then quickly "flip" it to an unwitting buyer, while the original homeowner has been deceived into signing away their property.