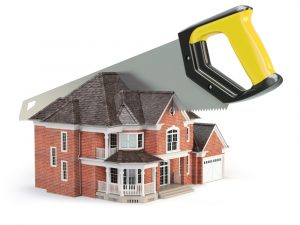 Our firm is frequently asked to bring partition actions on behalf of property owners.  For those who have not read all of our blog posts, a partition action is brought when a co-owner of property no longer wishes to own the property, and the other co-owner refuses to sell the property or buy the other out of her share.  A Court will eventually order the property sold, and the proceeds divided among all of the owners.  Our experience is that the parties will usually settle the matter before this occurs, either by agreeing to sell the property to a third party, or by having one of the owners buy the share of the other owner.
There are two common scenarios in partition actions, which have different effects on the action and the specific elements of how it may be resolved.  The first situation is when individuals inherit property after the death of a loved one. Usually, the last of two parents passes away, and leaves property, such as a house, to two or more siblings.  The siblings now co-own a house, for which they may or may not have a use.  One of the siblings may want to live in the house, or may have already been living at the premises as an adult.  That person may wish to remain at the property.  However, in such a situation, his sibling may have married and moved out the house, and may even live out of New York State.  The sibling who has "moved on" has no use for the property, and wants to have it sold so that he may receive a share of the proceeds for his own needs.
The resolution of this situation may be that the sibling remaining at the property will have to purchase the share of the sibling who does not want the house.  If the house has been fully paid for, with no mortgage encumbering it, the sibling remaining at the house may be able to obtain a mortgage and use part of the mortgage proceeds to buy out the interest of their sibling.  Such a transaction should be conducted by experienced counsel, as title would need to be transferred to the remaining sibling at the same time that the funds are obtained from the mortgage.  At that point, the sibling who does not want the house will transfer her interest, and obtain funds to compensate her for her share of the property.