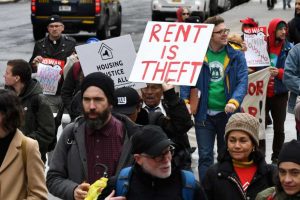 Recently in the news is that state representatives in Albany are considering sweeping changes to New York State's regulations for rental units. Prior blog posts have discussed past revisions to the rent regulations.  While some of the changes only affect apartments in New York City, others may apply to apartments statewide.  As of this writing, Governor Cuomo has stated that he will sign any bill that the lawmakers pass.
As most New Yorkers are aware, rental prices in New York City are among the highest in the nation.  Whether having the government attempt to control the prices of rental units will result in lower rents overall remains to be seen.  Rent regulation by the government has existed in some form since the World War II years, and keeping rental prices low has not been achieved.  While some regulated tenants benefit, others, whose units are unregulated, may see larger increases. In addition, forcing landlords to charge regulated rents may discourage both the building of new units and investment by landlords in improving existing apartments.  Why spend money on repairs or renovations if rent rates remain fixed by regulation?  Obviously, our representatives do not think that this is a factor.
Of course, not all apartments are subject to rent stabilization.  In Westchester County, where our offices are located, each municipality has the option of adopting the Emergency Tenant Protection Act (ETPA).  A list of these villages, cities, and towns can be found here.  If the units are in a village, city or town which has not adopted the ETPA, then the units are not rent regulated.  In addition, the law only applies to buildings of six or more units.  Therefore, if one owns a three unit apartment building in Westchester, it would not be subject to rent regulations.