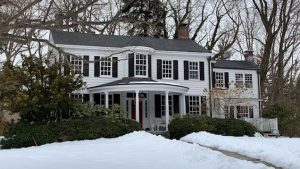 A recent news story in the New York Post discusses a real property dispute between Andre Leon Talley, a former Vogue editor, and his (former) friend, George Malkemus III, who also worked in the fashion industry.  Mr. Malkemus is a former shoe executive who expanded Manolo Blahnik in the United States.
The dispute concerns ownership of a mansion located in White Plains, the same City in which our firm's offices are located.  This post will discuss some of the legal issues involved in the property dispute.
The dispute started when Mr. Malkemus filed a Notice of Petition in Greenburgh Town Court late last year to evict Mr. Talley from the premises.  The Petition was filed after the necessary predicate notices were given to Mr. Talley.  The Petition also demanded back rent from Mr. Talley in an amount over $500,000.00, which is an unusually large amount to be demanded in a residential eviction action.