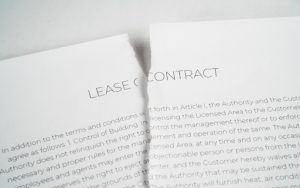 Our firm often receives inquires regarding renewals of residential leases.  As prior blog posts have discussed, in general, a tenant in New York has no legal right to a renewal lease, unless the rental unit is subject to some type of rent regulation.  Another exception may be where the lease itself contains a clause that allows either party to renew the lease upon proper notice to the other party.  The notice period may be 30 or 60 days (or another time length) prior to the current lease expiration, so it is important for experienced counsel to review residential leases to ensure that, if a party wishes to renew, proper notice is timely sent to the other party under the lease terms.
A common situation arises when the landlord does not wish to renew a tenant's lease.  Provided the rental unit is not subject to rent regulation, under current New York law, the landlord does not have to provide a reason for such non-renewal.  However, the non-renewal cannot be for discriminatory purposes against the tenant in question.  In 2019, New York law was changed regarding non-renewal of tenant's leases.  These changes will be discussed in this post.
Under the revised law, also known as the Housing Stability & Tenant Protection Act of 2019, which became fully effective in October, 2019, landlords are now required to give notice when they decide not to renew a tenant's lease.  The amount of time required for the notice depends on how long the tenant has occupied the premises, as well as the length of their lease term.  If the tenant has lived in the unit for less than one year, and their current lease does not have a term of at least one year, the landlord must give thirty day's notice of non-renewal.  Since most residential lease terms are for at least one year, this subsection will rarely apply.