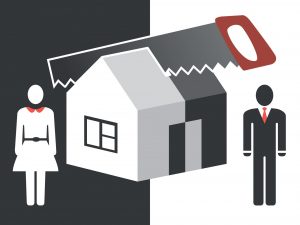 Our firm handles many partition matters.  A partition action is when one co-owner of a property brings a lawsuit because he no longer wants to co-own a property.  The lawsuit usually demands that the property be sold and the proceeds be equitably divided among or between the various co-owners.  If a partition action is not settled by the parties, the Court will appoint a Referee to sell the property and distribute the proceeds after hearings are held on how the proceeds should be divided.
However, in our experience, most, if not all, partition lawsuits can be settled by the parties before there is a Court-ordered sale.  There are generally three ways in which such actions may be resolved.  Let's say there are two co-owners of a house, named Amy and Bob.  The first way to settle the action is that Amy buys out Bob's interest, and becomes the sole owner of the property.  The second way is the reverse, in which Bob buys out Amy's interest and becomes sole owner.  The third possibility is that Amy and Bob agree to sell the property to a third party, and also agree on how the sales proceeds will be divided between Amy and Bob after the sale.
This post will discuss the first two scenarios.  If one party is buying out another's interest, it is possible that there is a mortgage lien already on the property.  Before finalizing a settlement, a title search should be conducted. This will show all liens and judgments on the property.  Experienced counsel can order such a search and interpret the results for the parties.  Once this is done, the parties need to decide how an existing mortgage will be handled in any settlement.  This will depend on several factors, such as the balance due on the mortgage, which of the parties has been making the payments, and which party is going to remain at the premises after the settlement.