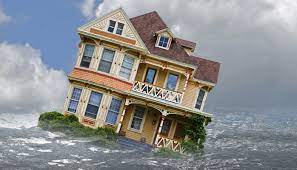 Several of our law firm's clients have been adversely affected by flooding caused by Hurricane Ida.  We wish to offer our sympathy for all of those affected.  This post will address the legal issues raised from this storm event and offer potential solutions.
Let's consider the issues from a purchaser's perspective.  Prior to entry into a contract, due diligence  should be conducted by the purchaser concerning potential property issues.  Most notably, it should be determined before the contract is signed whether the property is in a flood zone, so that the purchaser can consider whether he wishes to take on this potential additional risk.  In addition, if the property is in a flood zone, the lender will most likely require the purchaser to obtain flood insurance, which is quite costly and will be added to the monthly mortgage payment after closing.  The mortgage lender will need to be involved because the value of the collateral, the house, may have been severely damaged and the lender will want to ensure that the property is rebuilt to its former state.  Also, lenders may be willing to grant a payment forbearance to the purchaser, so that mortgage payments will not be due for a set period of time from borrowers affected by a disaster.
The following issues are of concern to a property seller when a significant flood event occurs.  Properties are appraised during the purchaser's loan application process to confirm that the property value supports the amount of the loan.  Lenders will want to conduct an additional inspection after the flood to confirm that the property has not been damaged or otherwise lost value after the date of the appraisal.  Concerned purchasers and their home inspectors may also be expected to make another evaluation of property condition.