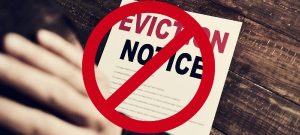 As readers of this blog may be aware, there is currently a moratorium on eviction cases in New York State.  This means that, with certain exceptions, new eviction cases cases cannot be filed with the appropriate Court, and cases which have already been commenced have been "stayed."  Legally, a case which has been stayed cannot progress towards a resolution, such as a Judgment and Warrant of Eviction, while the stay remains in effect.  In addition, if a Court has already issued a Warrant of Eviction prior to the stay being in effect, the Marshal or Sheriff will generally not proceed with the actual removal of the tenant, unless certain exceptions apply.
Currently, there are two eviction stays in effect, one from New York State, and the other from the federal government.  These stays will be discussed further in this article.
The eviction stay in New York State is currently in effect until May 1, 2021.  However, there are several legal challenges to this stay.  The first involves the current scandal involving the Governor relating to the concealment of the exact figure of New York State nursing home deaths due to COVID-19.  As a result of this, and other controversies involving the Governor, there have been discussions of removing his emergency powers, which were granted to him due to the pandemic.  The executive orders staying New York State evictions were issued by Mr. Cuomo under these emergency powers.  If he his stripped of these powers, he will not have the necessary authority to extend the New York State moratorium when it expires on May 1.  As a result, evictions and eviction cases may resume at that time, unless the state legislature decides to pass emergency legislation extending the moratorium.