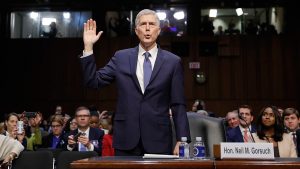 Hearings have recently been held to confirm Judge Neil Gorsuch as a Supreme Court Justice.  While the hearings certainly involve a great deal of politics, they also raise the question of the proper role of a Judge in our legal system, whether that person is a Judge in a local Court, such as Westchester's Village Courts and Justice Courts, in which Landlord-Tenant cases are heard, all the way up to the United States Supreme Court.
In general, a Judge's role in our legal system is to interpret the laws passed by our legislators.  This role should be the same in any level in which the Judge may serve.  Let's go through an example that has come up in our firm's landlord-tenant practice.  A law was passed by the New York State Legislature requiring that the Referee's Deed be exhibited to any tenant that the owner is attempting to evict after foreclosure.
As with many laws, this statute does not specifically define what "exhibiting" a deed to a tenant actually means.  Is it acceptable to simply mail or e-mail the deed to the person, or is more required?  Does a licensed process server need to come to the person's place of residence and show them the deed in question, as if they were serving legal process? What if the person is not home, or refuses to answer the door when a process server comes knocking?