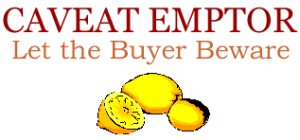 Caveat emptor is a Latin phrase loosely translated to mean "let the buyer beware."  Real estate in New York State has customarily been transferred under this concept, meaning that the seller is not obligated to disclose property conditions and the onus is on the buyer to discover conditions that may be objectionable.  In 2001, this concept eroded somewhat with the enactment of Article 14 of the Real Property Law, known as the property condition disclosure statement law ("PCDSL").  Sellers of residential property were required to complete a lengthy questionnaire concerning property conditions.  If the seller preferred not to complete the form, the seller was required to issue a $500 credit to the buyer at the closing, as was customary in downstate counties serviced by our firm.
Recently, Governor Kathy Hochul signed an amendment to the PCDSL that added disclosures concerning flood risks and history.  Most significantly, the amendment, which becomes effective on March 20, 2024, removes the seller's option to issue a $500 credit to the buyer and requires the completion of the questionnaire before the contract is signed.  The law explicitly states that it is not a warranty by the seller and does not substitute for inspections that the buyer may conduct.  Typically, a real estate agent or experienced real estate attorney will recommend that the buyer hire a professional inspector to evaluate property conditions.  Inspectors will often discover concerns such as asbestos in the furnace room.  A qualified attorney may integrate repair issues in contract negotiations.  Armed with additional information from the completed disclosure form, a buyer may threaten to walk away from a transaction without additional contractual concessions.
The new law provides that knowingly false or incomplete statements made by the seller can subject the seller to claims after the closing.  This is a departure from standard New York law whereby the buyer's acceptance of the deed at the closing is deemed to be full acceptance of any property conditions, whether known or unknown to the buyer.