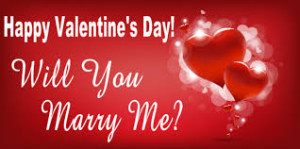 Are you planning to get engaged this Valentine's Day?  While legal concerns may not be particularly romantic, our firm offers the following legal advice pertaining to issues that arise upon marriage in this post.  Legal issues arise whether it is a first or second marriage and may become more complicated if there are children from a prior marriage.
Estate planning matters should be considered.  If you do not have Wills, it is prudent to consult an estate attorney  to develop the appropriate estate planning documents.  Wills, trusts, and health care directive documents may be drafted on your behalf.    Even if you already have estate documents in place, the beneficiaries and fiduciaries could be different now that you're engaged.  The persons that you select to make health care decisions for you are also likely to change.
If you have children from a prior marriage, provisions should be included in your Will to include a testamentary trust .  Your new spouse would be afforded the opportunity to use some of the assets during her life, with the balance left to your children from your prior marriage.  Without such a trust, your spouse could remarry and leave monies that you intended for your children to someone else.  Also, consider how your estate plan should address personal property.   If there are family heirlooms that you would want your children to inherit, rather than your spouse, you should have your attorney specify the particular items in your Will.
Housing needs should be considered upon your engagement.  Do both of your own your own home?  Are you considering purchasing a new home?  If the answer to these questions is yes, our firm coordinates all aspects of real estate transactions of this nature.  In the event that only one of you owns a home, our attorneys  can prepare title transfer documents to add your spouse to title.  You may also want to consider whether you want such property to automatically go to your surviving spouse upon your death, rather than to your estate.  As such, our attorneys will discuss whether title to the property should be held as tenants in common, joint tenants with right of survivorship or tenancy by the entirety (once you are married).
If such a property is a cooperative unit , our attorneys will coordinate with the transfer agent for the cooperative and assist you in complying with all conditions required to transfer the apartment.  Even if one of you has a rental apartment, you may wish to take the opportunity to have our attorneys  negotiate a favorable buyout agreement , so that you have even more assets as you begin your marital life.
We  offer our best wishes on your engagement.  Our lawyers are available to address all of these matters on your behalf.