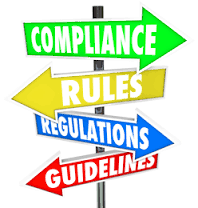 In a prior post , we alerted our readers that the HUD real estate closing form as they knew it would be disappearing from closings.  In a later post , we informed our readers that the new loan closing disclosure rules were in effect.  Several months after the implementation of these rules, we would like to share with you our observations of how clients have been dealing with these new rules.
Fortunately, we have experienced a busy home transaction season.  On the flip side, we have observed that transactions are closing approximately one month later than they did prior to the implementation of these new rules.  The exception to later closings is when a transaction is all cash, which does not require these disclosure documents and the mandatory waiting periods involved.  Longer closing timeframes are a result of lenders taking longer to issue the loan commitment, evaluate collateral, and clear the loan to close.  Even if the buyer and seller are ready and anxious to close, the lenders have been disregarding the will of the parties because they can incur substantial fines for failure to provide timely disclosures under the new regulations.  Lenders may also need to refund money to borrowers if the closing costs are higher than were disclosed.  The mandatory disclosure timeframe can be shortened in rare circumstances, such as an actual emergency.  An emergency is not that a buyer is going to have a baby imminently and wants to get settled, but is when a buyer may lose her downpayment by needing to react to a time of the essence closing notice or if the property is about to miss a short sale closing deadline .
Lenders have become much more inconsistent and conservative in recent months.  We have found that most lenders are internally deciding to require disclosure timeframes that are longer than required by law.  We have noted that one regional lender has required that even more time pass than required than a major national lender that is complying with the law.  A lender that is open for business on Saturday may seem to get the parties to closing faster because it can count Saturday as one of the disclosure days.
We have found that lenders have become even more prudent in the evaluation of collateral, in particular that pertaining to cooperative and condominium apartments.  The lenders have been considering all of the governing documents in the Offering Plan and as such documents have been amended, along with financial statements, insurance policies and the like in approving a loan in a cooperative or condominium building.  If a borrower defaults on the loan and the lender recovers the apartment in a non-judicial foreclosure proceeding, the lender obtains the apartment.  In preparing for the closing, the lender wants to make sure that if it obtains this apartment that it could sell it readily.  For instance, the lender wants to determine the flip tax to which it could be subject, the percent of owner occupancy and that of sponsor ownership.  In addition, lenders have become more cautious with respect to the attorneys that they authorize to represent them at the closing, allowing fewer attorneys to do this work and requiring compliance with stricter insurance coverage and the like.
How are parties to a real estate transaction best suited to weather these regulations?  All parties need to be realistic, as they have no control over the lender's timeframes.  The entire process is going to take longer than they find reasonable.  Specific plans such as terminating a lease, scheduling the mover, hiring a contractor for a specific date and the like should be delayed until such time as the attorneys advise their clients that it is the proper time to coordinate these details.  Work with an experienced professional  who knows what is required to get everyone to closing more quickly and is prepared to act promptly.  Make sure that the professionals involved, including the cooperative transfer agent, real estate broker, lender, attorneys for buyer and seller and the title company  share the data and information with each other in a timely fashion, so that disclosures can be distributed in the timeframe needed for the earliest closing date possible.
For instance, real estate agents should provide their license number and that of their brokerage early in the process, so that the parties are not scrambling to obtain this data on the last date that the Closing Disclosure needs to be circulated in order to hold a particular closing date.  Borrowers should open, read and respond to e-mails and other correspondence from their lender immediately, as response times dictate compliance with disclosure timeframes.  Although interest rates are of substantial concern to buyers, locking an interest rate for a short period of time will not work in this environment.  Since loans are taking longer to close, rates locked for 30-45 days early in the process are likely to expire before the actual closing, which may cause the buyer to incur fees to extend the rate lock, which fees may need to be disclosed on a document that requires additional waiting periods.
On a positive note, we have observed that borrowers seem to be more aware of the total amount of money that they will need to bring to the closing.  Although a buyer may still obtain the information on specific check instructions late in the process, they are tending to be less surprised with the amount required to close.  Borrowers are not seeing additional new charges for the first time at the closing.  The goal behind the regulations is "know before you owe."  We will continue to keep our readers abreast of developments in this area.