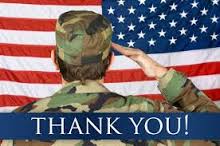 Many of our readers are looking forward to the upcoming Memorial Day holiday weekend.  Most of us are thinking of spending time at a backyard barbeque or taking advantage of a sale at a department store.  Memorial Day also has a more somber connotation, thanking our military for the ultimate sacrifice that they have made for our country.  As attorneys, we wish to bring to your attention particular legal matters with which we can assist should your loved one make such a sacrifice for our country.
We think of our military as young and not wealthy as yet.  Saving estate taxes is not the concern of this population.  However, estate and financial planning is still needed due to the inherent danger in their profession and their age.  For instance, an accident could result in permanent disability or death.  The service member may get married.  These changes could have significant consequences if the proper legal documents are not drafted by a skilled professional.
In the absence of a Will , the service member would be deemed to die intestate and an Administration proceeding would be required to manage the person's assets and liabilities.  Concerns with the disposition of personal property need to be addressed, preferably in a Will.
Real estate is a common asset owned by military families.  These families by their nature move quite a bit and may even own property in more than one state or country.  In order to avoid probate in more than one location, it may be prudent to transfer the property to a trust.  Renting an apartment may lead to other requirements in order to dispose of the housing.
As to non-real estate assets, confirming that beneficiary designations are accurate and having a Will drafted are crucial tasks to undertake.  Beneficiary designations on retirement accounts and insurance policies generally take precedence over wishes expressed in a Will.  The service member should make sure that his spouse, rather than his parents or his friend, is listed as a beneficiary.  Provisions should be made so that a surviving spouse is able to readily access benefits and dispositions.  Also, assets should be left to an age appropriate person, so that minor children do not inherit outright.  In such a case, it is prudent to name a trustee in the Will to manage the minor child's assets until the desired age.
We give our thanks to our military on this Memorial Day weekend.  We are available to consult with you relative to the matters discussed in this post.