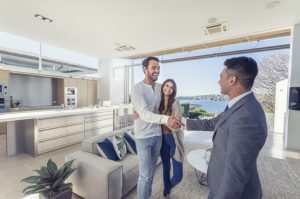 Now that the fall real estate market has ended, parties to real estate transactions are starting to prepare for the busy spring market.  Some sellers make the decision to forego the services of a professional real estate agent.  Other parties determine that using a real estate agent is essential to achieving the optimal high price and favorable terms sought.  This post will address the process involved in engaging a real estate agent.
This author  has found that over a period of decades, sellers prefer to work with an agent whose office is close to their home.  Such an agent may also live in the same neighborhood and would be very familiar with issues that are of concern to buyers.  Information on school registration, recreational facilities nearby and even medical providers will make a buyer feel at home and more comfortable selecting a particular house.  Agents in close proximity provide convenience in showings as often as needed and monitoring of property conditions.  As such, it is not unusual for a seller to ask neighbors for a referral.
The agent located will visit the home, provide suggestions for repairs and staging that may facilitate a quick sale and a recommended listing price.  Whether the agent owns her own brokerage or works for another brokerage, the seller will be presented with an agreement to sign and other disclosures such as lead paint and COVID disclosures, before photos of the home are taken and the property is listed on the Multiple Listing Service, allowing for exposure of the real estate listing to all buyers searching for a new home.  As an explanation, an agent may work for a brokerage with which he has an arrangement for shared compensation.