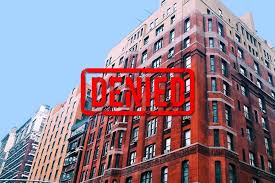 Consider the following scenario.  A shareholder in a cooperative  has been trying to sell her apartment because circumstances have resulted in her opportunity to buy a house in a sunny location out of town.  Her buyer is a young professional gentleman who wants to own, rather than rent, and build equity to trade up to another home in the future.  Their real estate agents make the deal.  All parties look forward to closing.  Of course, such a transaction requires approval not only of the lender making the purchase loan but of the cooperative board.  Once the buyer obtained his loan commitment, after having submitted numerous financial documents and information, he finds out that either the board will not even interview him or has declined to approve the purchase after the interview was held.
It has been longstanding practice in New York that a board does not have to disclose the reasons why it is declining an applicant.  The board is governed by the "business judgment rule" , allowing it broad latitude for its decisions, assuming that most decisions are made for the benefit of the cooperative as a whole.  The board's decision is only subject to being overturned if the parties can prove that the decision was made for an illegal reason, such as discrimination.  Let's say that the proposed buyer is a homosexual, which became obvious by information contained on the board application as to affiliations or as discussed in the interview.  Should that have been the reason why the declination was issued and the applicant was able to prove same, the decision could be overturned and subject the board to potential damages because homosexuals are a legally protected group.
It has recently been proposed in the Westchester County Legislature that cooperative boards should be legally required to disclose their reasons for rejection.  Those advocating for the rule suggest that it will prevent discrimination and is helpful to "protected classes".  This author feels that the law already protects applicants against boards that discriminate.  However, the proposed law would be helpful for other reasons.  It contains specific timeframes for the review of applications.  Should a board decide not to interview during the summer so that its members can travel, the law would prevent a three month delay in the review of an application.  Our readers should be aware that if a person's loan is declined, reasons will be stated in a letter, allowing the applicant to improve his submission in the future.  However, without any stated reason for a board declination, the seller and the real estate listing broker will have no information as to the type of buyer sought by the board.  What if the board now prefers that applicants earn more than $100,000 annually, but it has not communicated this information to shareholders?  With free disclosure of information, the broker will know how important it is to verify income and will not suggest a buyer who cannot meet the criteria.