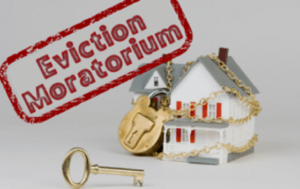 The events of 2020 and 2021 relating to the COVID-19 pandemic have had a great effect on the status of landlord-tenant actions in New York State.  By a series of executive orders, Governor Cuomo stayed evictions from taking place in New York State for the last sixteen months. The current stay is due to expire on August 31, 2021.
Those who follow the news are aware that Governor Cuomo will shortly no longer be governor of New York, as he has resigned his position after a series of scandals involving alleged sexual harassment, as well as his handling of the COVID-19 situation.  In a few weeks, he will be replaced by Lieutenant Governor Kathy Hochul.
Whether Cuomo will extend the eviction moratorium before he leaves office is unknown at this time.  Also unknown is whether soon-to-be Governor Hochel intends to extend the eviction moratorium.  Under the current moratorium, tenants can avoid being evicted if they complete a form affirming that their ability to pay their rent, or their ability to locate a new residence, has been affected by COVID-19.  If the moratorium is not extended, it is possible that evictions in New York State will resume on September 1, 2021, and the Landlord-Tenant Courts will resume "business as usual" at that point.