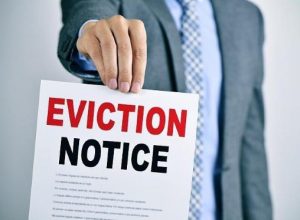 Our firm frequently handles eviction actions on behalf of both landlords and tenants.  In order to commence an eviction action, the tenant is served with a Notice of Petition and Petition.  These documents state the date, time and location of the Court in which to appear. One common occurrence is when a tenant fails to appear in Court for a scheduled hearing.  This post will address how such a situation is resolved.
Sometimes the tenant fails to appear at the hearing.  Whether it is because they did not actually receive the notice, cannot get to Court for health reasons, a failure to understand the nature of the proceedings, or otherwise, the Court will enter a default against the tenant.  What this means is that by failing to appear and present a defense, the landlord is entitled to receive the relief requested in their Petition.  Depending on the type of eviction proceeding, this relief will usually consist of a money judgment (in a non-payment proceeding) for the amount of rent claimed to be owed by the tenant, as well as a warrant of eviction.  The warrant is a legal document that allows the property owner to enlist a City Marshal or Sheriff (depending on where the property is located) to physically evict the tenant and remove his belongings from the premises.
Depending on the particular local court in which the action is brought, the Judge may sign these documents immediately or they may be submitted to the Court Clerk for the Judge's signature at a future date.  Once the warrant is signed, the landlord will send it to the City Marshal or Sheriff to proceed with the eviction.   The tenant will then be served with a 72 hour notice, which states that the eviction will proceed in three days.