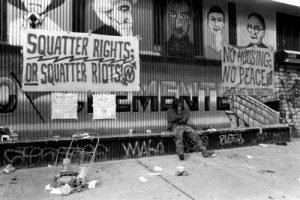 A recent article in the New York Post discusses a 61 year old man who had refused to move out of his Hunter College dorm room, where he had lived for the past 38 years.  Obviously, this is not the ordinary landlord-tenant matter, in which a tenant has a written lease with their landlord, and the rights and obligations of the parties are clearly defined.  Although most eviction matters involve a landlord-tenant relationship, there are certain situations which involve a different legal framework, which will be discussed in this blog post.
The first type of unconventional situation is that of a licensee.  A licensee is a person who is given permission to live at the premises by the owner of the premises.  Usually, the licensee is not paying rent.  One example would be an unmarried couple, where one person is the sole owner of the property.  The other person moves into the premises with the consent and permission of the owner.  After some time passes, the couple may develop relationship problems, and decide to split up.  What happens if the licensee refuses to move out of the premises at that point?
In order to evict the licensee, a special proceeding must be commenced, usually in the local landlord-tenant Court, under Real Action Property and Proceedings Law, Section 713(7).  This section of the law covers eviction proceedings where no landlord-tenant relationship exists.  The first step would be for the property owner to revoke their permission for the licensee to live at the premises.  We would recommend this be done in writing, with experienced counsel preparing the necessary documents.  Once the notice of termination has been given, the licensee has ten days to vacate the premises.  If they fail to do so, an eviction proceeding can be brought in the appropriate forum.