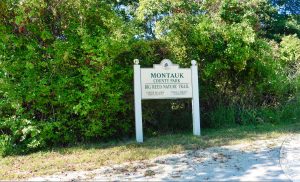 A recent news story in the New York Post raises important issues regarding the effects of the coronavirus pandemic on evictions in New York State.  According to the report, an "Intragram influencer" named Marisa Hochberg owes at least $14,000.00 in past due rent on her summer rental in Montauk, and has refused to vacate the premises, even though her lease expired several months ago.
In ordinary times, an eviction action would be brought by the attorneys for the homeowners in the local landlord-tenant Court, seeking to evict the tenant.  In the Hochberg case, the tenant could be the subject of either a holdover action, or a non-payment action.  First, as her lease expired by its terms, this makes her a month-to-month tenant subject to termination on proper notice (holdover action).  Second, as she has failed to pay rent due, this also allows the possibility of a non-payment proceeding being brought against her.
However, as our readers are aware, these are not ordinary times.  Not all landlord-tenant courts, which are local in nature, are scheduling and hearing cases on a regular basis, due to COVID concerns.  Before attempting to file a case in a local landlord-tenant Court, experienced counsel should contact the Court directly to ensure that they are accepting and scheduling new cases.