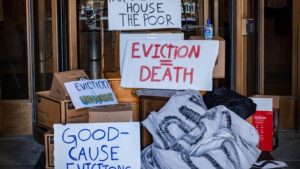 A recent article in the New York Post discusses a proposed bill relating to evictions which is being considered by the New York State legislature.  The "Good Cause" eviction bill would limit evictions in New York to only the narrowest of circumstances.
Since the expiration of the COVID-19 eviction moratorium in January, evictions have generally resumed in New York.  Under the moratorium, landlords were prevented from evicting tenants, unless they were an actual danger to people and property.  As COVID-19 waned, the Governor allowed the moratorium to expire.  As a result, landlord-tenant Courts have generally resumed normal operations, and tenants have been subject to evictions after proper Court proceedings have been held.
However, as a result of the temporary eviction moratorium, there have been some advocates who are attempting to further limit evictions, even though COVID-19 has waned and available vaccines have greatly reduced the risk factors for most individuals.  Under the proposed "Good Cause" eviction bill, landlords would not be allowed to evict tenants, except for non-payment of rent and lease violations.