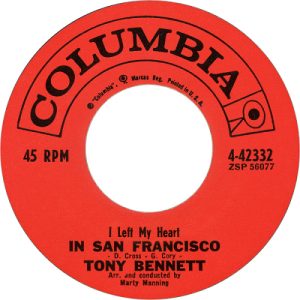 Tony Bennett was beloved by those young and old not only as a talented singer, but as a World War II veteran and civil rights icon.  His recent death at the age of 96 was not unexpected.  This post will identify the legal issues that may be raised when a person such as Tony Bennett passes.
Mr. Bennett could be considered to have been in a New York State of Mind, having been born and dying in New York State.  He was considered to be well-liked by all, except for potentially his two ex-wives who may have said "I've Got You Under My Skin" as they completed their divorce proceedings.  We have posted previously as to whether an estranged or divorced spouse has the legal right to inherit.  Even a promise to include an ex-spouse in one's Will, as may be desirable in resolving a divorce proceeding, is not enforceable in New York.  Unless Mr. Bennett had explicitly left assets to his ex-wives in a Will or Trust, these ex-spouses would not have a valid claim to his estate.
The admired crooner was married to his third wife at the time of his death.  Potentially his most recent wife had a conflict with his four children, whose mothers were either his first or second wives.  In addition, two of his four children assisted Mr. Bennett in his career, so he may have wanted to leave them more assets or they stand to gain other financial benefits from having worked alongside their father.  It should be noted that Mr. Bennett's two daughters were also the children of his second wife and but were born before their marriage.  If Tony had no Will, an estate administration would need to be conducted and proof of paternity would need to be established so that his daughters could legally inherit from his estate.
Nonetheless, it is unlikely that a person who went from Rags to Riches and had a net worth of approximately two hundred million dollars at death did not have estate documents in place that would have been drafted by an experienced estate attorney.  In order to minimize a potential estate contest, distribute assets precisely as desired to all of his children and third wife and maintain privacy, a Trust would be recommended, provided that all applicable assets would be transferred to the trust.  Unfortunately, it was reported that Mr. Bennett was afflicted with Alzheimer's disease for several years prior to his death.  Such an ailment affects the mental capacity of a person to make a valid Will and other estate documents.  Hopefully the applicable documents were prepared prior to his diagnosis or the start of deterioration, so that the dispositions made therein will not be challenged.
Real estate holdings were also a part of Mr. Bennett's estate.  At one time he lived in London.  If he owned property abroad at the time of his death, it would need to be addressed in accordance with one of our prior posts.  The apartment with the splendid view of Central Park in which he lived at the time of his death may need to be sold in accordance with the advice of qualified real estate attorneys.
Mr. Bennett was also a painter.  His artwork has been displayed at the Smithsonian.  Should he also have bequeathed the same artwork in his estate documents, the conflict would need to be resolved.
Certainly, Tony Bennett came to live The Good Life by the time of his passing.   We hope that his memory will not be tarnished by an estate contest.  We are available to evaluate our reader's family composition and assets in order to draft the appropriately protective estate documents.