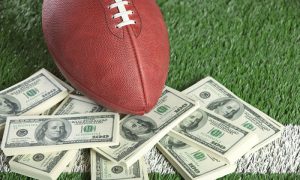 Scheduled for this Sunday is the Super Bowl between the New England Patriots and the Los Angeles Rams for the championship of the NFL.  Recent news stories in the New York metropolitan area involve the possibility of making legal sports bets on the "big game" at casinos or racetracks located in New Jersey.  The reason for this development is a recent decision by the United States Supreme Court which invalidated a federal law prohibiting individual states from making sports betting legal, with limited exceptions.
The Supreme Court, by a seven to two vote, held that it was a violation of the Constitution to prohibit states from making their own decision regarding the legalization of sports betting.  The result is that every one of the fifty states can now legalize sports betting (or decide not to legalize sports betting), and may determine where, when, and how such bets will be made within their state.  The details of such legalization are left up to each state, including whether to allow online betting.
New Jersey, which brought the case before the Supreme Court, has already passed legislation permitting sports betting in racetracks and casinos, such as the Meadowlands Racetrack located just a few miles from New York City.  New York State has lagged behind, and has not yet legalized sports betting or decided on a structure for such potential legalization.  For the time being, New York State residents who wish to bet against the Patriots in the Super Bowl must travel to New Jersey, or to another state such as Nevada, which has authorized legal sports betting.
What effect will such legalization have on New York rental properties?  Many leases, whether for commercial or residential properties, have clauses relating to illegal activities.  Landlords are concerned that certain activities that could impair the reputation of the property.  A commercial landlord may include lease provisions prohibiting the use of the property as a gambling parlor.  Likewise, standard residential leases may forbid activities such as "card games" and wagering within the apartment.  Our attorneys maintain that a lease forbidding specific particular activities will be upheld by a Court.  However, if the lease provides that the conduct of illegal activities is a default and could give rise to an eviction case, then such a clause may be not be enforced if the activity complained of is no longer illegal.  Should New York eventually legalize sports betting, it would no longer be an illegal activity, and, therefore, a landlord would not be able to use an "illegal activity" clause as grounds for eviction.
We often interpret lease clauses in both commercial and residential leases for our clients in the context of changing times, and welcome questions relating to this area of law.