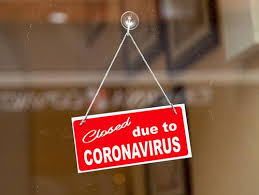 Commercial leases in New York are not immune to the effects of COVID.  Enforced shutdowns of "non-essential" businesses by governmental authority has led to mass closure of many retail stores and restaurants and record-high unemployment rates.  Even restaurants limited to the restriction of takeout and delivery service are suffering severely reduced revenue.  The current business climate has inherently altered the lease obligations that a tenant can maintain.  This post will address how the parties to a lease should be addressing the changes to New York's commercial lease landscape.
It is not unusual for commercial leases to contain a requirement by the tenant to maintain business interruption insurance.  Tenants with such coverage should file a claim with their insurer.  Many insurers may initially deny the claim on the basis that pandemics are not included in their coverage.  This tactic is likely to be subject to future litigation.  Ultimately, the insurers may be required to cover such losses.
A tenant should have an experienced attorney review the particular lease that has been signed to determine whether a force majeure clause may excuse the tenant from its rent obligations.  This clause excuses a tenant from obligations for circumstances beyond its control such as terrorist attack, war, famine, strikes, catastrophic weather conditions and acts of God.  A particular lease needs to be evaluated to determine whether a pandemic is considered to be a force majeure.  Force majeure may also provide the tenant with a defense if conditions prevented it from obtaining a building permit, completing a build-out according to an established schedule, opening for business by a particular date and the like.
Tenants may also raise the argument that the failure of an anchor tenant or the mall in its entirety being closed is a defense to payment in its lease, should the lease contain co-tenancy provisions.
Certainly, any concessions made to a tenant adversely affect the landlord if the landlord is unable to negotiate deferral of its mortgage and real estate payment obligations.  A qualified attorney should review the landlord's mortgage documents to determine if concessions from the lender due to reduced rent collection is possible and to negotiate a loan modification agreement with the relevant parties.
In any case, we maintain that the parties will need to be practical in order to successfully manage the difficult economic landscape created by COVID.  Landlords should be willing to modify leases so as not to lose the tenant entirely.  Newly created store and restaurant vacancies are unlikely to be filled in the coming months.  Also, with evictions being prohibited in many jurisdictions, landlords are unable to pursue lawsuits for nonpayment of rent.  Landlords need to be mindful that a tenant's use of the rented space and its income stream may be adversely affected by COVID, and be prepared to make the appropriate allowances.  For instance, a fitness facility may be required to operate at one-half capacity according to social distancing guidelines.  This could result in one-half of the anticipated revenue, making it difficult for the tenant to pay the same amount of rent going forward.  Landlords need to be aware that consumers may not be ready to visit stores and restaurants, even with anticipated safety protocols in place, and that tenants will need time to rebuild their businesses.
Potential lease modifications that we are likely to see will be rent forgiveness for a set timeframe, rent reduction and rent abatements.  In exchange, the landlord may expect to obtain a lease extension from the tenant, an additional guarantor and the posting of an additional security deposit.  The parties could also agree that deferred rent payments will be added to the rent obligations once payments resume.  Tenants should be cautious in using CARES Act payments to defer rent arrears, in order to insure that such payments are available for payroll obligations as required by the law.  If the parties anticipate that the tenant will not be able to remain in business, the tenant's attorneys  should negotiate a favorable lease termination.
As the retail and restaurant environment thaws, we are available to interpret lease provisions and to advise our clients of the optimal solutions for their business.