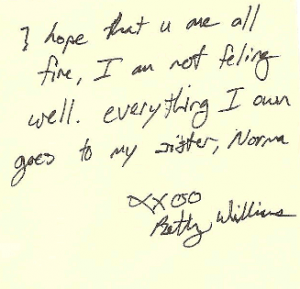 Many of our readers were heartbroken when the prolific television interviewer Larry King recently passed away.  He was married many times.  At the time of his death, he had filed for divorce from his seventh wife, Shawn.  Shortly after he started the divorce case, he allegedly prepared a handwritten amendment to his Will.  Such amendment drastically changed the dispositions and executor appointment designation and most notably disqualified Shawn from inheritance.  Shawn has now filed to contest the purported will in California.  While this author cannot comment on the manner in which a California Court will determine this case, this post will discuss the possible results of such a matter in New York.
New York State has specific statutory requirements for the execution of wills.  For purposes of this discussion, an amendment to a will is usually referred to as a Codicil, which must be signed and witnessed in the same fashion as a will.  An experienced legal practitioner should supervise the execution of a Will so that it is deemed to be valid.  Under rare circumstances, New York recognizes handwritten wills.  New York law would disqualify the validity of Larry King's handwritten will because King did not fit within the extremely narrow provisions required to make a handwritten will valid: he was not a member of the armed forces during a war or a mariner at sea at the time of his death.
Courts in the area served by our practice often hear cases concerning objections to wills.  Initially, the Court will evaluate issues concerning the due execution of the will according to the statutes discussed above and may disqualify the will because it was handwritten and did not fall within the exceptions listed.  Then, the Court may consider other matters such as undue influence, diminished mental capacity and testamentary capacity.  King's estranged wife has raised all of these issues in her challenge.
Our firm has expertise in handling wills and estate administration matters.  We recommend that our readers have their wills prepared by qualified attorneys who also properly supervise the execution.  That way, a person's wishes are more likely to be fulfilled and a will contest is less likely to result.