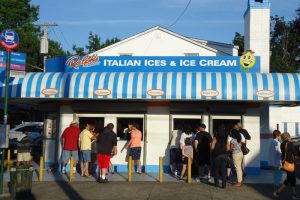 News outlets have recently reported a conflict between local business Ralph's Italian Ices in Mamaroneck and local officials, who are seeking to close the business due to noise and parking issues.  While we do not know how this specific situation will resolve itself, many of our firm's clients are small businesses who may find themselves in similar situations.  This post will discuss the legal issues involved when a commercially leased property has issues relating to compliance with local regulations.
A business owner seeking to lease commercial property should first have counsel research the property in question.  Issues such as allocation of parking spaces, permitted hours of operation, and legal as-of-right zoning of the proposed location must be thoroughly vetted prior to signing any commercial lease.  Zoning is particularly important.  If the property being leased is not zoned for the proposed tenant's use, a special use permit must be obtained from the locality in which the premises are located.  A special use permit allows the property to be used for a non-conforming use outside the legal as-of-right zoning.
When such a permit is necessary, the tenant's attorney should make sure that a contingency clause is inserted in the commercial lease to allow for the obtaining of such a permit.  Obtaining such a permit requires a detailed application, formal notification of adjacent property owners of the pending application, and, usually, attendance at a zoning board hearing to explain the situation at a hearing before the town zoning board.  Therefore, the lease should contain a clause that the proposed tenant will make a good faith application to the zoning board for a special use permit, and, if such application is rejected, that the tenant would have the option to terminate the lease in question.  Otherwise, a tenant may lease a property, and discover that they cannot open their business due to not being in compliance with zoning regulations.  A contingency clause allows the tenant to apply for a special use permit without the risk that they may be committed to a long-term lease without the ability to legally operate their business.