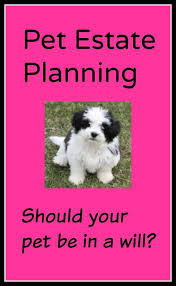 Some of our trust and estate clients have asked us how to best protect their beloved pet in the event of their disability or demise.  Pets can be just as important as children when planning one's estate.  These family members can be adequately provided for in a legal fashion.  Traditionally, pets have been considered to be personal property, being no different than a car, furniture and the like.  Our post addresses how personal property is typically distributed after someone dies.  Some pet owners consult us to have their pets treated in a more personal fashion in their legal documents.
Practical matters should be considered such as selecting a potential caretaker and confirming with such person that they are willing to serve.  The caretaker should be informed about the pet's habits and preferences, such as how often and where the dog likes to be walked and pet food preferred.  Contact information for the veterinarian, medical conditions and medications taken should be indicated.  Funeral arrangements should also be made known, such as whether a cemetery plot has been purchased and whether funeral expenses have been prepaid.  These practical matters are particularly important because the pet is unable to communicate, as a child may.
From a legal perspective, persons interested in legally protecting their pets should consult the attorney who is drafting their overall estate plan.  Financial consideration to the caretaker needs to be arranged, while at the same time requiring the caretaker to perform certain duties on behalf of the pet in order to be compensated.  A pet trust is a legally appropriate means to accomplish this goal.  Such a document (or provision within a Will) would provide that a certain sum of money is to be set aside for the care of the pet by a particular person, which sum is to be released in particular intervals provided that the caretaker is assuming the duties expected or upon delivery of proof of payment of expenses on behalf of the pet.