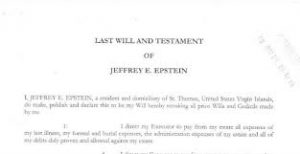 Most of the press concerning Jeffrey Epstein concerns the despicable crimes of which he is accused.  Of interest to this author  is the Will and other estate documents signed by Epstein merely two days before his death by suicide.  There are legitimate reasons why a person in prison or in the hospital may have an experienced attorney prepare documents such as a Will, power of attorney and health care proxy evidencing their last wishes with the anticipation of impending death.  If a person is in prison for a long time and even has children, his legal affairs need to be in order should he suffer death as a result of another inmate or from other causes.  However, Epstein seems to have fashioned a scheme to shield his assets and possibly defraud creditors of his estate, most notably his victims.
Apparently Epstein's estate plan included a "pourover" Will that dictated that his assets would be left to a trust.  His executors then filed the Will in the U.S. Virgin Islands, rather than in New York State.  The possible explanations for this strategy will be discussed in this post.  We  may advise our estate clientele  to have such an estate structure, although not for such nefarious purposes.  As we have explained in prior posts, a trust can be a valuable tool in estate planning for certain persons.  In the event of a potential Will contest, trust provisions typically are more difficult to be challenged.  Further, in the case of famous people who may not want specifics of their assets and beneficiaries made public in a Surrogate's Court filing , trusts afford the opportunity to keep such matters private because they are not filed with the Court.
Venue, the location of the probate Court filing, is an interesting issue in this case as well.  Typically, a Will should be filed in the state where the deceased maintained his primary residence.  However, Epstein had multiple residences around the world and seems to have selected the U.S. Virgin Islands as the location to probate his Will because he owned at least one island in the territory.  It is possible that the Court will decline venue and move the probate proceeding to New York, where Epstein seems to have spent the majority of his time.  In any case, ancillary probate proceedings will be required to determine the disposition of properties in each location.